As an Amazon Associate I earn from qualifying purchases.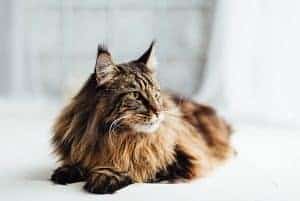 When comparing a Maine Coon vs Siberian cat, it can be tough to tell what the difference between them is. Although they look the same they are quite different, especially when it comes to size and weight, personalities, double-layered coats vs multi-layered coats, and more. Both of these large cat breeds bring something amazing and unique to any home that they are in. So, what are the differences between Maine Coon and Siberian Cats?
The differences between Maine Coons and Siberian cats are their size, personality, and appearance. Maine Coon cats are larger than Siberian cats. Maine Coon cats can weigh 18 pounds on average and are 3 feet in length. Most Siberian cats weigh up to 17 pounds and 2 feet in length and have double-layered coats.
Since I am very up on cat breeds, I can quickly tell the differences between these two types. However, if you aren't an avid cat breed follower, I can see how these two could be confused. Both are large, fluffy cats that are highly loveable and entertaining. While these big cats share many qualities, there are differences between the two breeds as well.
Let's dive into some differences between these two breeds and what you need to know if you are considering adopting one (or two) of these fabulous cats! While there are some differences between the two, they are fantastic cat breeds that fit in well with most homes. Both are a great choice!
Interested in checking out the best litter boxes for cats? You can find them by clicking here#ad
Which Cat Is Larger: A Siberian or a Maine Coon?
A Maine Coon is the undisputable leader in this category. Maine Coons are the largest domestic housecat compared to normal cats. Males can top the scales at 18 pounds and three feet long. A male can also take as long as three to five years to become fully grown. There are Maine Coons that are outliers from the average featured on social media. Some of those cats can be found on Instagram and are closer to 30 pounds and over four feet long.
Just because the Maine Coon is the largest domestic housecat doesn't mean Siberians are tiny. These cats are still big in their own right. Male Siberians can get as large as 17 pounds and two feet long. If they weren't compared to a Maine Coon, we would be discussing how large Siberians are. Like their Maine Coon friends, they also have an extended kitten phase. They don't reach their full size until closer to three to five years old as well.
What Is The Personality Of A Siberian Cat?
Siberian cats have a large and fun personality. These fluffy cats are playful jokesters who like to have fun. They love other cats and do very well with dogs. Adventure could be their middle name. This breed does exceptionally well on a leash and will enjoy going outside for walks. These guys and gals are also excellent athletes and love to run, jump, and climb.
Overall, this breed is very happy, enjoys people, other pets, and wants to just enjoy life to the fullest. A Siberian is the life of the party and your household. A commenter on a cat board once called Siberian adorable despots. They will love anything and everything as long as it doesn't get in the way of their fun.
What Is The Personality Of A Maine Coon Cat
Maine Coon cats have the nickname "gentle giants." This moniker is accurate. These guys and gals have fun personalities, just like their Siberian cat friends. Their personalities are quite similar. In a Maine Coon, this personality is just more subdued. Sometimes Maine Coon cats are not affectionate at all. 
They also enjoy the company of their family and enjoy kids and dogs. They can be a bit aloof with strangers but adapt with time. They adjust easily to any environment. Just make sure they have some room to exercise, and you are all set. They are fully capable of the physical feats of a Siberian, but they just choose not to. These cats are brilliant.
The best way to compare the two personalities: a Siberian is always at a ten, and while a Maine coon can be at a 10, they are much more like a mellow 6.
Are There Differences In The Coat And Fur Between The Two Breeds?
When you see both a Siberian and a Maine Coon, you can't help but notice their stunning coats and fur. The word exquisite doesn't do either one of them justice. But there are some differences between the two breeds and their coats.
Siberians originated in Russia, so their long coats are equipped to handle the coldest of cold weather. Their layers are a double-thick coat with extra around their neck to protect them from all elements. This coat requires a great deal of brushing and maintenance, and during certain times of the year, they will shed like crazy. Owners need to have the time to dedicate themselves to daily brushing. They also come in a variety of coat colors. No one color is the breed standard.
Some coat colors are less common though. For example, White Maine Coons are rare compared to other coat colors you'll find in that breed. 
Maine Coons also have a stunning long coat, ready to protect them from harsh weather. Siberia is colder than Maine, but Maine isn't exactly known for warm winters. The coat of a Maine Coon is also set to handle cold climates. Their fur is not the double-thick coat like the Siberian, but rather a multi-tiered coat of varying lengths with extra protection in the midsection. Their tail is unusually fluffy, which they can wrap around themselves for additional warmth. Their feet are also reinforced with fur so they can walk through the snow.
Like their Siberian friends, this coat doesn't come without work. Maine Coon owners have to brush their fur daily. But luckily, they don't need as much maintenance as a Siberian. Their coat is nowhere near as dense, so while they shed, it isn't at the same volume as a Siberian. There is also no breed standard on what color a Maine Coon should be. They come in a variety of colors, but tabbies seem to be quite common.
What Are Some Known Health Issues In Maine Coon Cats
Maine Coons are a relatively healthy breed. But there can be some genetic issues that present themselves in these cats. Issues related to their size are also possibilities. The most likely problem related to size is hip dysplasia. This is something seen in many different breeds of large animals. The condition is considered genetic, but since this is not regularly seen in smaller animal breeds, some vets think it a size-related issue.
The two other conditions that Maine Coons are prone to is spinal muscular atrophy and hypertrophic cardiomyopathy. You will want to get a full health history on your cat's parents from your breeder. You will also want to find specialists who can evaluate your cat to check for early signs of these diseases. While these conditions can't be cured, a much better quality of life for your animal is possible with early treatment.
Hypertrophic cardiomyopathy is also the number one health problem found in Siberians. This condition is the most common heart problem found in cats of all breed types. Like you would with your Maine Coon, check your cat's parents' heart history and have your vet check your Siberian early for this condition.
How Much Does It Cost To Own A Maine Coon
As cute as any pet is, the cost of the animal needs to be a consideration. You want to make sure you can afford your pet. Below is how much it costs to purchase and raise a Maine Coon cat from kitten to adult:
| | |
| --- | --- |
| Costs To Own A Maine Coon Cat | Average Cost |
| Maine Coon Kitten | $1400 – $2000  (low end $500) |
| Shelter | $100 – $150 |
| Food | $50 – $65/month |
| Medical Expenses (Neuter/Spay) | $200 – $300 |
| Microchip | $45 |
| Grooming Products | $15 – $35 |
| Toys, Scratching Posts, Cat Tree | $5 – $130 |
| Litter | $20/month |
| Pet Insurance | $315/month |
| Annual Vet Visit | $220 |
Maine Coons aren't overly expensive vets. Where they can cost more than average is your food bill and preventive checkups with your vet/vet specialists.
Maine Coons need to eat a high-quality diet that is rich in protein. Food that you buy at the grocery store just won't cut it for Maine Coons. Once you leave that category of pet food, your options increase in price.
You can also find breed-specific food for your Maine Coon from brands like Royal Canin. One medium-sized bag will cost over $50. If your Maine Coon is large, you may need more than one bag per month. If you incorporate wet food into your cat's diet, that is another $50 per month. Raw diets are another choice for a cat like a Maine Coon. Some of those can cost close to $200 per month.
Preventive checkups with a specialist can cost a couple of hundred dollars per visit for the additional scans they will run. Hospitals with these specialists may not be local to you, so there will be travel expenses.
A Siberian won't be much different in terms of their diet. These high-octane cats have to eat more food than average to power their large, active bodies. Like their Maine Coon friends, discount food from the grocery store just won't give them what they need to thrive. Food choices for a Siberian will be similar to that of a Maine Coon.
While they don't need as many specialist visits or screenings, it is still something a Siberian owner should consider. The expense of owning each of these cats is roughly about the same.
Are Siberians Hypoallergenic
Siberian cats are not hypoallergenic. A common mistake when it comes to cat allergies, is that people think a person is allergic to the cat's fur. That is not accurate. People who suffer from allergies to cats react to a protein that the cat has in their saliva, dander, or urine. While not always reliable, it can be safe to approximate that cats with more fur will produce more of this allergen. There will be more saliva on their fur, and in theory, they should produce more dander.
As we've already mentioned in this piece, Siberians have a lot of fur. But amazingly, they trigger less allergic reactions in people who react to the Fel d1 protein. Siberian cats, along with Russian Blues and the hairless cats (Sphynx, Cornish Rex, etc.), produce less of this allergen versus other cats. This does not make them hypoallergenic. But people who react to the Fel d1 protein may be able to tolerate these breeds easier.
Sadly, Maine Coons do not fall into the category of cats that produce less of the Fel d1 allergen. People with Maine Coon cats will need to be able to control their allergic reactions through medication, or not suffer from cat allergies. Maine Coon cats are known to have dander.
How Can A Novice Tell The Difference Between A Maine Coon And A Siberian
This is a valid question. Even as I read this article, it doesn't sound like there are many differences between them. If I weren't a trained cat person, I would think they could be the same cat. And while we have discussed some ways that the two vary, it would seem that they at least look alike. Well, they do, and they don't.
As mentioned, the Siberian is smaller than the Maine Coon. But it is unlikely that a person is going to break out a ruler or a scale to measure and see which cat is larger. The size difference between the two isn't a large one. The more noticeable difference between these two breeds is in the body structure.
The two cats' body shape will be different, but that can be difficult to notice because of all the fur both of these breeds possess. A Maine Coon will have a rectangular body, while Siberians can be a bit more rounded. A Siberian also has a hind body that is taller than its front to help its jumping skills. The more noticeable difference between the two breeds is in their faces and their ears.
It can be said that Maine Coons grow into their ears. When they are kittens, Maine Coons have large, pointy ears with tufts of fur sticking out. The ears of a Siberian are nowhere near as pronounced as a Maine Coon. Even the tufts of hair aren't as much—it's more like wisps of fur. The face shape is also a bit different. The Maine Coon has a much more angular face, almost triangle like in some. It may be best to describe their facial structure as blunt. Siberians have more of a rounded face, and the jawlines are much softer. The same goes for the shape of the eyes. Maine Coons fall more into the almond-shaped category, and Siberians have a rounder appearance to their eyes.
Both cats can be described as stocky in their build with big paws. The trait of being polydactyl is common in Maine Coons. Polydactyl means they have extra toes on their paws. This can happen in any breed of cat but is more common in Maine Coons. Author Ernest Hemmingway kept many polydactyl cats at his home in Florida. A significant number of them were Maine Coons. Cats that are descendants of those originals still live there and are loving called The Hemmingway Cats. Siberians will have big paws but are less likely to be a polydactyl.
In Summary
Both cats possess infectious personalities that will light up whatever room they enter. My cats follow both Maine Coons and Siberians on their Instagram account. The first cat I had as an adult was part Maine Coon, and he was just the sweetest cat I've ever had. There is a stunning Siberian I follow on Instagram that I joke up catnapping and bringing into my home (@oreocatofficial-look for the youngest cat on this account, Pudding).
Maine Coons and Siberian cats are both loveable, giant, fluffballs. They share so many qualities and physical traits that it is hard to tell them apart. But there are some distinctions between the breeds that are worth noting for potential owners. However, let's be honest; both of these cats are amazing with terrific personalities. They would be an asset to any home that is ready to share their couch with two of the largest domestic cat breeds!